Bertram Schilling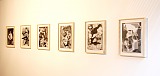 About:
The idea of the mix is a central theme of my paintings, collages, papercuts and installations. Recurring motifs and sources of inspiration come from my daily surroundings, travel experiences and landscape memories.
Project:
"Map, Mind, Memory"
Munich - exhibition 2015
What I see, I paint. What I don' t see, I paint. What I can, I paint. What I can't, I paint.
Concepts of perception, memory and knowledge is what interests me in my work and in particular for the "Map, Mind, Memory"-project.For the exhibition in Munich I produce pieces which are not guided by a well-defined program but instead are connected very much with intuitive processes and experimental production-methods.Having "the technique" – the means, or ability, to get from here to there, to navigate within your work is always the issue, but while painting, as in most of all art-activity, it is sometimes necessary not to recognize the significance of what you have done, to get lost in your work. In fact the significance could be said to be held in that act of irresponsibility.I like it when paintings and collages become something like the by-product of an almost automatic process, constructing a kind of  "own", independent variation of imaginary form.To decide and evaluate becomes unnecessary, - the articulation becomes the knowing. The knowing comes out of the process, and it refuels a further effort of articulation.
Short CV:
BERTRAM SCHILLING
born 1971 in Krumbach (Bavaria), lives in Sweden and Germany
1995 – 01 Kunsthochschule Kassel, Akademie der Bildenden Künste München, Hochschule für Gestaltung Karlsruhe/ ZKM (Rolf Lobeck, Res Ingold, Ludger Gerdes, Boris Groys, Peter Sloterdijk)
Prices/Scholarships/Residencies/Project-Grants
2001 Barcelona, Erasmus-Grant
         "Abschluss mit Auszeichnung", Kunsthochschule Kassel
2003 MFA/"Meisterschüler", Prof. Rolf Lobeck, Kunsthochschule Kassel
2004 Curator at Kunsträume Kempten, Exhibition-project, Grant by the City of Kempten and the Bavarian State
2005 European-Travel-Grant by Bezirk Oberbayern Wroclaw/ Poland;
          Prize "Debutantenförderung", Bavarian State Ministry of the Arts
2007 Prize "Förderpreis der Dr. Rudolf Zorn Stiftung", Kempten
2008 Artist-In-Residence Manila "The Supreme Genius of Paul Gauguin"/ Film-project
2008 - 2010 Three year grant "Atelier-Stipendium" of the Bavarian State
2011/12 Project-Grant, Erwin und Gisela von Steiner Stiftung, Munich
2013 Artist-In-Residence, Big and Small Project Space, Ufa, Russia.
          Travel Grant Scandinavia, Project-support by the City of Munich, Culture-Department
2014 Project-Grant by Swedish-Finnish Cultural Foundation for Suomennlinna,/Helsinki, Finland
2015 Project-Grant Konstnärsnämnden
2016 Eurpean Grant by Bezirk Oberbayern, Residency at the Centre of Polish Sculpture in Orońsko, Poland
2016 Prize "Kunstpreis der Stadt Sonthofen"
2016/2017 Styria Artist-In-Residence, Graz, Project-grant by Land Steiermark
2017 Artist-In-Residence, Kökar, Finland
Selected Solo Exhibitions
Schwäbische Galerie, Oberschönenfeld/ Augsburg (2012); Jakob Henle Haus, Lünen (2012) Kunstverein Mönchengladbach (2011); Galerie Vögtle, Karlsruhe (2011 mit Andreas Stöhrer); Kunstforum Kempten (2010); Galerie Ambacher, München (2010 mit Oliver Winheim); Kunsthaus Villa Jauss, Oberstdorf (2008); Kunsthalle Kempten (2005); Dock 4, Kunstraum Kassel (2001);
Selected Group Shows
Europäisches Künstlerhaus Freising (2017); Sodu 4, Vilnius (2016); Konstnärshuset Stockholm  (2016), Kunsthaus Kaufbeuren (2016);  Südliche, Sonthofen (2016); ArtQ 13 Rom (2015); Galerie der Künstler, München (2015); Kunsthaus Villa Jauss, oberstdorf (2015); Konstnärshuset Stockolm (2015);
Galleria Rantakasarmi, Helsinki (2014); Studio 44, Stockholm (2012), SIHLQUAI55 Offspace, Zürich (2011); Kunsthalle Kempten (2011); Kunstverein "Graz", Regensburg (2011); Alte Feuerwache Berlin (2011); Formverk, Eskilstuna (2011); Schloß Bad Grönenbach (2010); Pinakothek der Moderne Munich (2010); Künstlerhaus Bethanien, Berlin (2009); Polygalerie, Karlsruhe (2009); Staatsgalerie für Moderne Kunst, Glaspalast Augsburg (2009); Galeri u Zlaheto Kohauta, Prague (2009); Städtische Kunsthalle Wroclaw (2005); Hinterconti Hamburg (2003);
Art Fairs
Liste Basel (2009); Preview Berlin (2009, 2010); Supermarket Stockholm (2009, 2010, 2011, 2013, 2016); Cph_Alt, Copenhagen(2009, 2016); Und_Karlsruhe (2007, 2008, 2009, 2010); Belgrade Art Fair (2012); Suomi Art Fair Helsinki (2013); Art Athina, Fair Athens (2013); V-art, Värnamo (2009)
Collections
Pinakothek der Moderne München, Bayerische Staatsgemäldesammlung München; Gregor Mendel Laboratorien Neu-Ulm; Museen Kempten; Genetikum Stuttgart; Erwin und Gisela von Steiner Stiftung, München; Volkskundemuseum Oberschönenfeld; Stadt Sonthofen; Jakob Henle Haus Lünen; Stadt Fürstenfeldbruck; Freunde der Kemptner Museen
Participating in project:
Press images (Click here)