News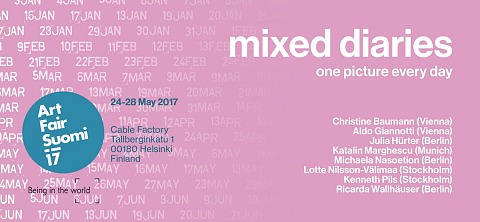 Helsinki Art Fair
May 2017
http://artfairsuomi.fi
mixed diaries
BITW first time at Suomi Art Fair Helsinki with the mixed diaries project
Kökar Meeting
May/June 2017
http://www.kokarkultur.net/welcome.html
BITW meeting on Kökar, Finland.
At our groupmeeting on Kökar-Island we discuss the conditions, organisational models, and the role of artist-led practice within BITW and similar networks.
We look back on our work for the last 5 years with BITW and plan for further projects.
With friendly support of Kökar artist Recidency
Kunstahlle Kempten Stipendium
September 2017
http://www.kunsthalle-kempten.de
Map Mind Memory II
Silvia Jung-Wiesenmayer and Bertram Schilling received the Kunsthalle-Kempten Stipendium for their BITW exhibition-project "Map, Mind, Memory-II". The Vernissage is connected with the event "Kunstnacht Kempten" in mid-September.
With friendly support of Kulturamt Kempten
Moskow research
September 2017
Moskow artist-run spaces
Kenneth Pils received funding for his Moscow art research trip in autumn 2017 which is focusing on connecting BITW to russian artists and organizations.
With kind support from Swedish Institute.